Yvonne Alexandra Santiago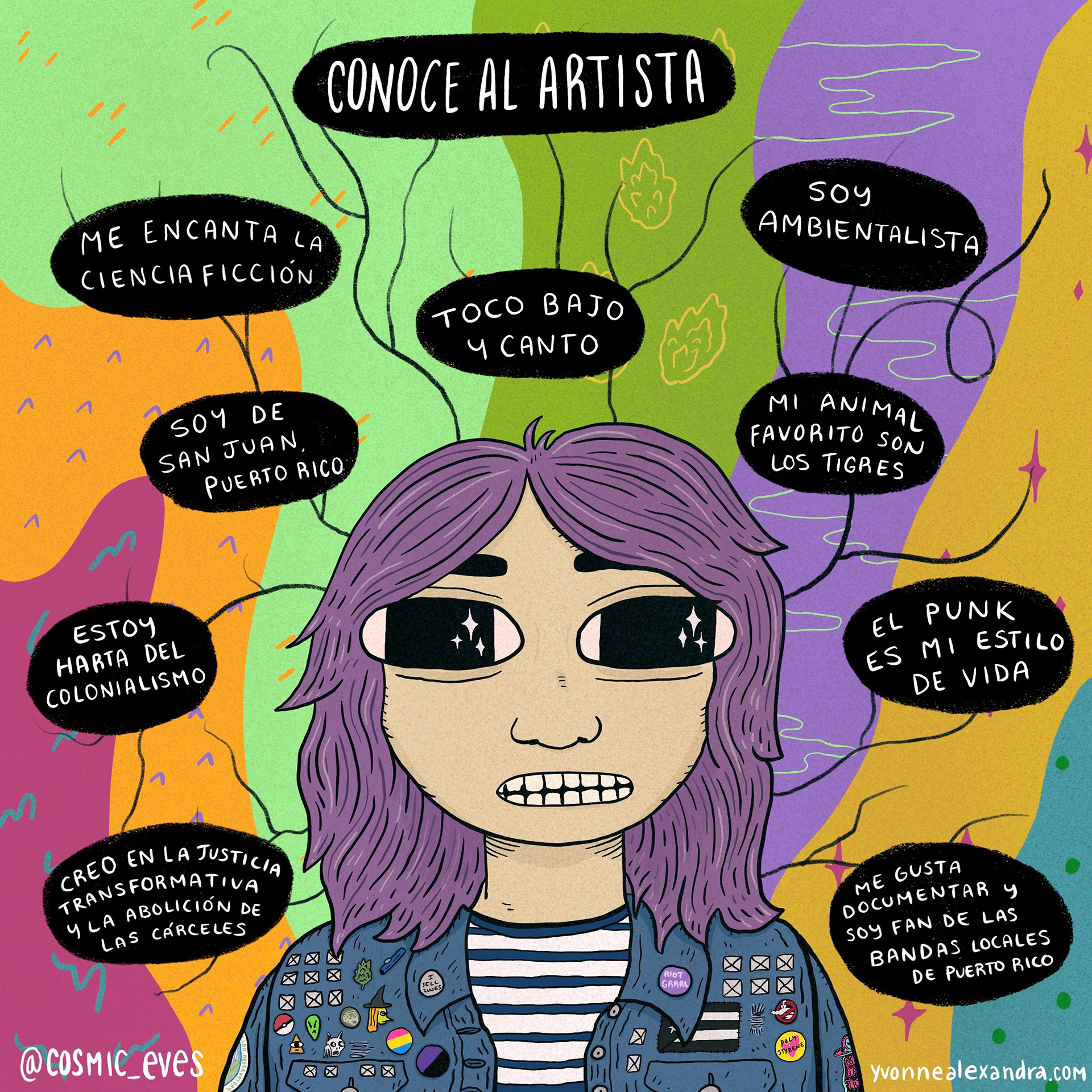 Yvonne is an illustrator from San Juan, Puerto Rico with a background in graphic design and photography. She started as a graphic designer in 2010 and since 2016 has changed her trajectory to illustration and publications. Her work focuses on illustration, sequential art, photography, and lettering. Inspired by the lowbrow art movement and indie comix scene, she uses various mediums such as ink, risograph, colored pencils, acrylic paint, gouache, screen-printing, and digital platforms to explore themes like colonization, cannabis, feminism, psychedelia, science fiction, mental health, and any topic society is not comfortable talking about. She explores these themes as a method to process her surroundings, confront her reality, and therapy for her mental health. Since 2016, she has been selling at indie comic arts festivals such as Tintero in Puerto Rico, Chicago Alternative Comics Expo in the USA, and Toronto Comic Arts Festival in Canada. She originally participated under the collective name Taller Secreto Press and since 2019 has been running her own press, Espanto Press.
She uses her Polaroid or disposable camera to document the independent music scene in Puerto Rico through her zine, Weird Fold (@weirdfold). She is currently reimagining Espanto Press since the pandemic started but will continue to print comics, zines, and art books by Puerto Rican artists. Her illustration work can be found on her website or under the name Cosmic Eves on social media.
**IN MEDIA**
https://merodea.com/vida-local/3-ilustradoras-boricuas-que-educan-a-traves-de-su-arte/
** ORGANIZER **



2019
MECAgo En To: Feria de Ilustración – El Local en Santurce, San Juan, PR




*

* FESTIVALS *

*
2019
Tintero Festival de Cómics y Arte independiente de Puerto Rico - Casa Cultura Ruth Hernandez, Rio Piedras, San Juan, Puerto Rico
2018
Chicago Alternative Comics Expo - Center on Halsted, Chicago, Illinois
Toronto Comics Art Festival - Toronto Reference Library, Toronto, Ontario, Canada
2017
Tintero Ponce Festival de Cómics y Arte independiente de Puerto Rico - El Candil, Ponce, Puerto Rico
 Chicago Alternative Comics Expo - Center on Halsted, Chicago, Illinois
Tintero Festival de Cómics y Arte independiente de Puerto Rico - Engine-4 Coworking Space, Bayamon, Puerto Rico
2016
Tintero Ponce Festival de Cómics y Arte independiente de Puerto Rico - El Candil, Ponce, Puerto Rico
** PUBLICATIONS **
2020
Vamos A Bailar – photography book - created & published by me– Espanto Press
2019
Mini Cripi – Zine - created & published by me – Espanto Press
Selección Antinatural – Anthology – participated & published by me – Espanto Press
Cripi – Zine - created & published by me – Espanto Press
Feminasty 2: Estado de Emergencia – Anthology – participated & published by me – Espanto Press
2018
Feminasty – Anthology – participated & published by me – Espanto Press
Nublado – Anthology – Participated and published with other small presses – Taller Secreto Press, Castorillo, Soda Pop Comics
Umbral 3 – Anthology – Participated – Taller Secreto Press
2017
Weird Fold 3 – Zine – created & published by me – Taller Secreto Press
Weird Fold 2 – Zine – created & published by me– Taller Secreto Press
Weird Fold 1 – Zine – created & published by me – Taller Secreto Press
Secrezine: Horror – Anthology – participated & published by me – Taller Secreto Press
Drop Out, Collaboration with CJ Román – Comic - created & published by me– Taller Secreto Press
Umbral 2 – Anthology – Participated – Taller Secreto Press
** EXPOS **
2019
Beer Coaster Show - La Central, Isabela, Puerto Rico
2018
El Section - Productos Gostosos, Rio Piedras, San Juan, Puerto Rico
Catnip - La Respuesta, Santurce, San Juan, Puerto Rico
2017
Beer Coaster Show - Museo de Arte de Puerto Rico, Santurce, San Juan, Puerto Rico
Chichaito "Little Fucks" XXX - Taller Secreto, Rio Piedras, San Juan, Puerto Rico
A Oscuras - Contrabando, Rio Piedras, San Juan Puerto Rico
Remedio Humano - Hielo A.I.R, Santurce, San Juan, Puerto Rico
2016
Taller Abierto - Taller Secreto, Rio Piedras, Puerto Rico
TV Addicts - Taller Secreto, Rio Piedras, Puerto Rico